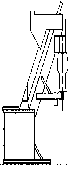 AUTOMATION -- ASSEMBLY
MATERIAL HANDLING -- PROCESS
METALWORKING -- FABRICATION


PO Box 46566
Cleveland, OH 44146
216-581-7150
(FAX) 216-581-2734
(E-MAIL) sales@in-o-vate-inc.com

HIX Corp
produces a full range of ovens & dryers for industrial, food, pharmaceutical, printing & related applications. They provide batch, continuous, tower and tunnel units with fixtures,PLC's, Controls, Etc. Units can operate with propane, electricity or natural gas and can use convection, conduction, InfraRed and other heating methods.
Spectrum Automation
manufactures a complete range of part feeding and handling products & systems. They can address the most demanding applications and also can provide cost-effective solutions for standard requirements.
Air-Hydraulics
manufactures pneumatic, hydraulics and air-hydraulic presses in a wide range of configurations and capacities. They also produce electric impact units, press pinch point protection and a series of pneumatic index tables. In addition they can provide fully tooled and automated presses.
Behm Industrial Products is a distributor of fluid power and power transmission products including NOPAK cylinders and valves and NORD gear drives.