GOESSLING USA manufactures a full range of heavy-duty conveyors and related products.
Conveyors include steel hinge belt from 2-1/2 to 12 inch pitch, magnetic, oscillating, and cooling. Complete conveying systems and custom units can be provided.
All conveyors feature components designed to offer maximun life and they excel in handling high temperature parts and scrap along with large parts as well as very small scrap that can jam other styles.
Other products include parts de-oilers and dumpers.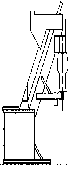 AUTOMATION -- ASSEMBLY
MATERIAL HANDLING -- PROCESS
METALWORKING -- FABRICATION


PO Box 46566
Cleveland, OH 44146
216-581-7150
(FAX) 216-581-2734
(E-MAIL) sales@in-o-vate-inc.com

METALWORKING
PRODUCT LINES
BUCKEYE LUBRICANTS
manufactures metalworking coolants, oils & fluids for virtually any application. Their products feature outstanding quality at competitive prices and they provide full support to their customers.
GRAHAM HYDRAULICS
manufactures heavy-duty index tables for demanding applications. These indexers are suitable for loads to 10,000 lbs and offer long life in challenging environments.
NATIONAL CONVEYORS
manufactures an extensive range of chip processing equipment and systems with capabilities to offer anything from a small stand alone system to a major installation with fully automated processsing from the machines to the final scrap collection point.
Air-Hydraulics
manufactures pneumatic, hydraulic and air-hydraulic presses in a wide range of configurations and capacities. They also produce electric impact units, press pinch point protection and a series of pneumatic index tables. In addition they can provide fully tooled and automated presses.